07-25-2010, 12:22 PM
sfl1972


Newcomer


Posts: 8
Joined: Jul 2010
Robert the Doll
Here is a picture of Robert the Doll that I took in Key West Florida back in 2001. It was taken on a cheap disposbable camera. Here is the story...
We sought out Robert the Doll after learning about him on a ghost tour in Key West. We were told, by our tour guide, to make sure we ask the doll if it's ok to take a picture of him. I said whatever and when I found him in his case, being the skeptic I was I basically called him names and taunted him. We took 5 pictures right after I did that on the disposable camera. We were there for awhile then decided to leave. We had one picture left, so for giggles, I decided to apologize and be nice to him and ask his permission to take his picture. Well, when we had the camera developed, only one picture of him came out, and it was the last one. The five pictures we took had nothing on them, they were black. I assure you, that is the Gods honest truth as it happened. I scanned the picture to share with you what I captured that day on film. There seems to be a clear circle above Roberts head and a white mist seems to be on the outside of the circle. This picture has always fascinated me, but recently someone brought it to my attention that they see a skeleton type face in the white mist. I about fell over when I saw it...Does anyone think I captured anything???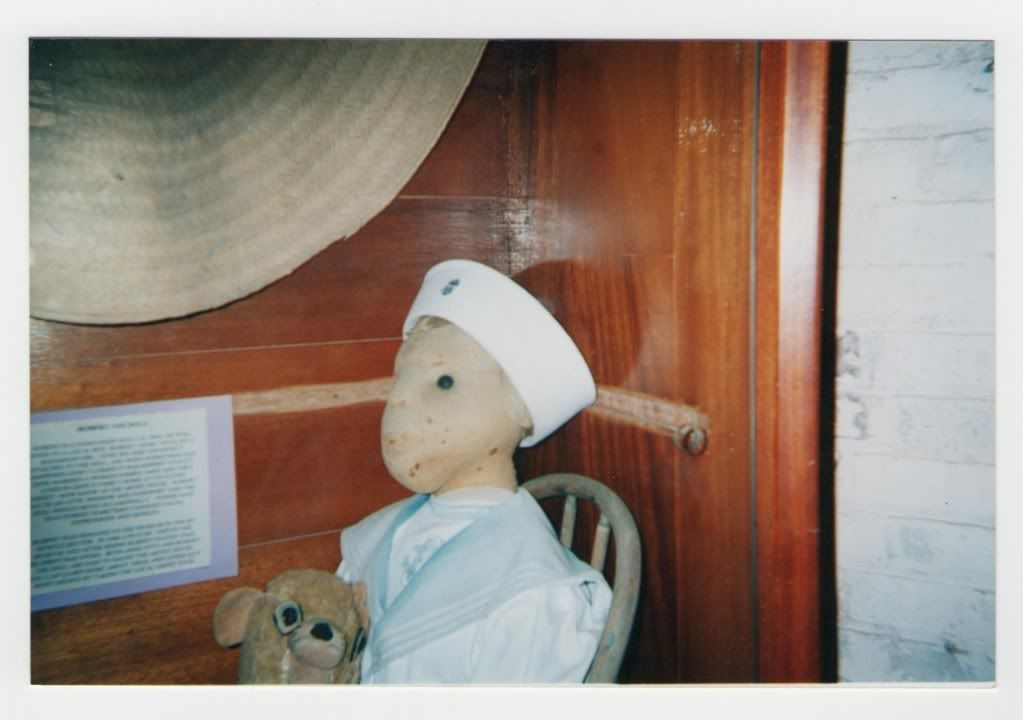 07-25-2010, 12:34 PM
UglyNRude
Out of my mind. Back in five minutes.


Posts: 3,606
Joined: May 2008
RE: Robert the Doll
Looks like the picture was taken through glass and the reflection created the circle and mist around it is reflected light.
---
When investigating paranormal don't rely on assumptions, base your decisions on evidence.
07-25-2010, 12:50 PM
scarygirl67
Certified dust.


Posts: 10,268
Joined: May 2009
RE: Robert the Doll
I agree with UNR, that is what it looks like...reflection of the light because of the glass. You just happened to catch it at that particular angle.
---
"When you feel like a toad on the highway of life... and everyone seems like a steel-belted radial... when you're lyin' there squished in an assortment of bodily fluids... at least you left your mark." ~Arnie Dogan, "The Red Green Show"
07-25-2010, 02:06 PM
Ali
~ GoogleBot's BFF ~


Posts: 2,611
Joined: Mar 2009
RE: Robert the Doll
Thank you for sharing the photo. Robert the Doll has an interesting background. I would like to see it someday in person.
---
People are like stained-glass windows. They sparkle and shine when the sun is out, but when the darkness sets in their true beauty is revealed only if there is light from within. ~Elisabeth Kübler-Ross
User(s) browsing this thread: 1 Guest(s)